Once again it's time for the annual Idaho Trout Unlimited post of the "Top Ten Trout, Salmon and Steelhead Stories."  See this link for last year's top ten list.  This is the 9th annual presentation of stories affecting trout, salmon and steelhead and their watersheds in Idaho.   You can find the previous top ten stories for 2015, 2014, 2013, 2012, 2011, 2010 and 2009.  What follows is a mix of the obvious stories that circulated in the news media along with the little known, obscure but significant events, projects and policy advances that help protect and perpetuate North America's cold water resource.
1. Steelhead Symbol – The poor Snake River steelhead returns portend a precarious status and uncertain future for Idaho's ocean-going salmon species, and a low confidence that government agencies are going to much of anything to make things better about those killer dams.
The summer and early fall of 2017 saw stories about the forecast for poor numbers of Snake River steelhead bound for natal waters in Idaho and eastern Oregon.  In response the Idaho Department of Fish and Game in August closed steelhead harvest  and neighboring states followed suit.  Catch and release fishing was still allowed.  By mid August only 400 steelhead had crossed Lower Granite Dam, compared to the ten year average of 6,000 for that calendar date.  Later into the fall numbers improved and IDFG proposed opening a harvest season.  This led to a debate among anglers whether the still moribund numbers should be protected with catch and release only fishing or allow some harvest. Opinion was even split.  Riggins-based outfitter Kerry Brennan, quoted in theLewiston Tribune, said everybody cares for the resource.  "We are all on the same side. We just have a little different way of going about it." The Commission placed a size limit on the Clearwater River to help protect the rare B-run steelhead.
Left out of the immediate debate of the fishing rules was the specter of the eight dams between Idaho and the Pacific Ocean which exact a toll when smolts migrate seaward and adult fish swim home.  On that front 2017 saw the Federal dam agencies like the Army Corps of Engineers and Bonneville Power Administration take their sweet time contemplating the court-ordered Environmental Impact Statement and reporting that it will be sometime year 2020 when people see an EIS.  The judge seemed not too pleased with the overly broad and leisurely approach to the study but acknowledged he cannot tell the agencies how to do their EIS.  This is all connected to the legal violations of the Endangered Species Act   Meanwhile NOAA Fisheries released it's long-awaited Snake River Salmon Recovery Plans.  First launched in 1992 the recovery plan took 25 years (yes, you read that right, twenty-five years) to bring to a final document.  And NOAA did it in a way to discount it's relevance by first pointing out that a recovery plan is not bindingi.e., actions are voluntary and secondly by not including the removal of the lower Snake River dams as a necessary recovery action despite all the scientific evidence that it's about the only thing that can be done to improve survival rates sufficient to recover the Snake River Chinook salmon species.  That the responsible federal agencies are not planning to do much to make things better is largely what was found in a series of articlespublished over five months by Idaho Statesman reporter Rocky Barker.  Barker also took time to recount how the newspaper's editorial board took a position in favor of breaching the dams back in 1997, and how they hold to that position today.
3.
National award for Yankee Fork restoration projects –
The Chief of the US Forest Service
recognized the Yankee Fork Restoration Project
for a Chief's Honor Award at a ceremony in Washington, D.C. in December.  The Salmon-Challis National Forest and it's fisheries biologist Bart Gamett received recognition for this award, along with  partners the Bonneville Power Administration, Bureau of Reclamation, Idaho Fish and Game, Idaho Governor's Office of Species Conservation, J.R. Simplot Incorporation, National Oceanic and Atmospheric Administration Fisheries, Shoshone-Bannock Tribes, Tiffany and Company Foundation, Trout Unlimited, and the U.S Fish and Wildlife Service.  A recent news release from the Salmon-Challis NF noted the Yankee Fork Restoration Project was a multi-year, multi-funded river restoration project and included team members Cassie Wood, Project Manager, Trout Unlimited; Paul Drury, Project Manager, Bureau of Reclamation; and Evelyn Galloway, Habitat Biologist, Shoshone Bannock Tribe.  Here is a recent video of some of the work in the Yankee Fork drainage.
4. 
Clark Fork Connections –
 Several activities along the Clark Fork River show the work being done to reconnect the river's bull trout populations that are fragmented by large dams.  The
Cabinet Gorge Dam passage program
of trap and haul of bull trout coming from Lake Pend Oreille into the Clark Fork River is well known.   More recently, focus is now on
passage proposals on Albeni Falls Dam
, the downstream outlet of Lake Pend Oreille.  Multiple interests are coming together on restoring the Clark Fork Delta.  Check out this great video from Idaho Fish and Game:
Yet counter to these restoration actions is the proposal for significant mining near the Clark Fork River in Montana.  In early 2017, the Fish and Wildlife Service determined that it must reanalyze its review of the Rock Creek Mine proposal because new information shows the mining will cause baseflow reductions in Rock Creek and East Fork Bull River, and also there is additional bull trout critical habitat designated in 2010.  This additional review is needed to comply with a Court order that found a Biological Opinion to be unlawful based on the long-tern dewatering of streams critical to bull trout that would affect important populations and core areas (Kootenai River and lower Clark Fork River).
5.
Springfield hatchery debacle –
It is hard to live down a headline, "Idaho Hatchery Built to Save Salmon is Killing Them."   The Springfield fish hatchery near Aberdeen was built as a conservation hatchery for Snake River sockeye salmon.  In November
a story broke
of a poor survival rate of sockeye smolts raised at Springfield and then trucked to the Sawtooth Valley for release in the Salmon River to migrate to the sea.  Idaho Fish and Game made an
admirable effort to explain the problem
and what they were doing about it to make things better.  Turns out the hard water at the Springfield hatchery (high in calcium carbonate) where the sockeye are raised is much different than the soft water of the Salmon River and its headwater streams.  And moving the smolts from one condition of water chemistry abruptly to another creates too much stress for the young fish to handle.  Why the big difference in water chemistry?  Basically it comes down to geology.  The basalt rock of the Snake River plain where the hatchery draws its water is maybe one to three million years old and a different kind of rock while the headwaters of the Salmon River drain from mountains of granite that were formed some 40 million to 60 million years ago.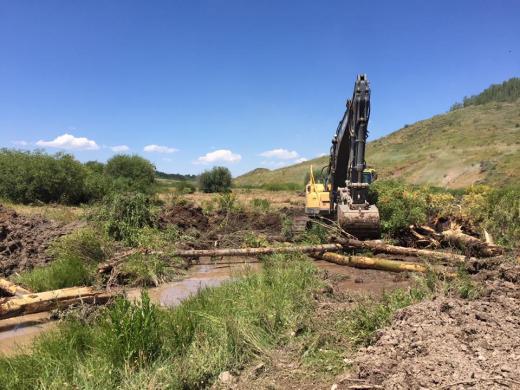 Tincup Creek work is progressing
6. Tincup Creek Restoration – It took a Jackson Hole, WY Chapter to find a project in Idaho that turns out to be the top rated project in the nation.  When the Jackson Hole Chapter applied for a Trout Unlimited Embrace A Stream grant the Tincup Creek project ended up rated first among nearly 60 projects across the nation.  Tincup Creek drains a large area on the Caribou-Targhee National Forest and flows east from Wayan, Idaho to a confluence with the Salt River in Freedom, Wyoming. The Salt River is tributary to the Palisades Reservoir and part of the large upper South Fork Snake River watershed.  This project will restore habitat for native cutthroat trout and address watershed problems that date from the mid 1950s when herbicides were broadcast along the stream to kill off all the willow that helped provide stable stream banks and shade on the stream.
7.  Lewiston Orchards Water Exchange – The first year in operation of the first well for the Lewiston Orchards Irrigation Project was in 2017 and less water was diverted from headwater streams in the Lapwai Creek area south of Lewiston.  The long time diversion of water from small streams affected Snake River steelhead, so the Bureau of Reclamation, New Perce Tribe, Lewiston Orchard Irrigation District and Bureau of Indian Affairs developed a plan to replace the surface water diversions with groundwater pumping.  The first year using one groundwater well is complete and additional wells will be drilled when funds are available.  "This project will restore flow reliability to stream in the Lapwai Watershed, including Sweetwater Creek," says Kira Finkler, director of Trout Unlimited's Idaho Water Project.  "Because of the unique characteristics of Sweetwater Springs, the biological value of these streams for steelhead is likely very high and the project will contribute to increasing the resilience of steelhead to climate change impacts.  The restoration of these biological values will resolve the project's effects on the New Perce Tribe and its people, including impacts to natural and to cultural and religious water users."
Big crowd rally for public lands.
8. Public Lands rally and legislative progress in 2017 – Idaho's public lands are a treasure! These lands, and access to them, are why most of us choose to live, work and raise families in Idaho.  These lands and watersheds are essential to the wild trout and salmon populations in this state. However, many Federal and State Legislators seek to pull the rug out from under us by transferring ownership of federal public lands to the state or selling this cherished resource to the highest bidder. Trout Unlimited joined with other organizations to put on a rally at the Idaho Capitol which was attended by more than 3,000 people.  Meanwhile the legislative session resulted in some progress on a number of fronts, good for salmon and trout.  Idaho Fish and game brought forward its  first fee increase in over a decade. The 20% increase would add $1-$6 dollars on most licenses and with an innovative "Price Lock" proposal:  if you buy a license every year, you do not pay the increase.  It took some finagling along the way, including a new "conservation license" added to all hunting and fishing licenses that will pay for additional wildlife depredation claims.  But for anglers the fund are split in half with money going to access for hunting and fishing.
9. Wimpy Creek project on Lemhi River – Another project reconnecting a piece of the Upper Salmon basin in the Lemhi River.  Back in 1992 the Lemhi Model Watershed Project was designed by then Governor Cecil Andrus as the focus area for habitat projects as part of the Northwest Power Planning Council's Fish and Wildlife Program.  Some 25 years later many, many projects continue to go forward under the aegis of multiple agencies and organizations.  Trout Unlimited's Idaho Water Project is working with the Moulton Ranch on this project.
10. Cecil Andrus leaves a conservation legacy – August 2017 and the passing of former Idaho Governor and Secretary of the Interior Cecil Andrus brought forth a multitude of stories that remind everyone of the conservation legacy of Idaho's only four-term Governor and first President-appointed cabinet secretary.  During his 14 years as Governor, Cecil Andrus established an unmatched record of trout, salmon and steelhead conservation.  He brought those values to the national stage as Secretary of the Interior under President Jimmy Carter, ensuring the protection of 103 million acres of Alaska, large areas of the Idaho back country, and numerous Wild and Scenic River designations, a half-dozen coming the night before Ronald Reagan took office.
In Idaho during his six years in the State Senate in the 1960s a state law was passed protecting the Middle Fork Salmon River from dredge mining.  He proposed a state surface mining law in 1970 and campaigned for Governor in opposition to an open pit mine at the base of Castle Peak.  His election that year began an era of conservation in Idaho that lasts to present day through a number of laws, policies and agencies that were put in place, many of which contribute to the protection of Idaho's trout and salmon species.
One of his major efforts was focused on Idaho's anadromous fish.  Andrus used to fish for steelhead in the North Fork of the Clearwater River in the 1950s when he was raising a young family in Orofino.   A blog post from the Ted Trueblood Chapter recounts that he took a leadership role in protection of Idaho's salmon and steelhead runs:
In 1990 (during his second life as Governor 1987-95), the first Endangered Species Act petitions were filed by indian tribes and conservation groups on the Snake River sockeye salmon, as well as the Snake River spring, summer and fall Chinook salmon.  This was a big deal and very politically-charged at the time, because in the Pacific Northwest the Endangered Species Act and other federal laws had affected management of National Forests, severely restraining timber sales and in turn logging and saw milling jobs in rural forest communities.

To many idahoans the Endangered Species Act status for Snake River salmon could spell massive economic disruption.  High concern spread among water users that federal agencies based in the downstream states of Oregon and Washington could find a way to demand water from Idaho irrigators and instead use the water to push the juvenile salmon to the ocean during the spring migration.

Rather than shy away from what looked like a no-win issue, Andrus plunged in. The four states, federal agencies, interest groups and trade associations in the region held a number of meetings, called the Salmon Summit.  And it was Idaho Governor Cecil Andrus who brought forward a plan.  A plan that focused on the real problem created by the construction of the four lower Snake River Dams that slowed the flowing waters into a series of stagnant reservoirs and preventing free migration of salmon and steelhead to the sea.  And Andrus decided to make it a national issue.
Governor Andrus, who was a Trout Unlimited member, leaves a legacy that inspires many to continue the conservation mission for Idaho's salmon, steelhead and trout.